Seismix 2020 Symposium
Hosted by Curtin University, Perth, the 19th edition of the biennial International Symposium on Deep Seismic Profiling of the Continents and their Margins (SEISMIX 2020) was also extended to include the latest technological and scientific developments in the application of seismic methods.
The Symposium was held at the Esplanade Hotel in Fremantle, near Perth, Western Australia, from Sunday the 15 of March to Thursday the 19 of March 2020.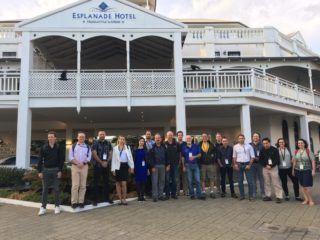 ---
Technical program
The SEISMIX Symposium is unique in the way that it brings together geoscientists from around the world in a quest to investigate the interior of the Earth using the latest technologies. It unites active and passive source-imaging communities and those who study the Earth, from the near surface to exploration scale, and up to the continental scale.
As usual, there was a single session for oral presentations (no parallel sessions) and ample time allocated for poster presentations. There were also a number of keynote presenters.
The conference included topics such as:
Innovative seismic acquisition and processing techniques
Active and passive seismic interferometry
Active and passive seismic: together or not?
Active continental margins and subduction zones
Mid-ocean ridges and oceanic lithosphere
Global processes—collisions and accretion
Comprehensive geological interpretation
Near-surface seismology—case histories
New developments and advances in DAS applications
Novel seismic imaging and inversion methods
Moho in 3D
Special topic: ET resource potential
Unusual case histories—lessons learnt
---
SEISMIX 2020 Download Package
This package contains the following data:
The Symposium Technical Program in PDF format
All available presentation and poster abstracts in PDF format
Download the Seismix 2020 Publications Package
---
Science committee
The following researchers and industry partners make up the Science Committee for this Symposium:
Milovan Urosevic, Curtin University
Sinem Yavuz, Curtin University
Alireza Malehmir, University of Uppsala
Andrej Bona, Curtin University
Andrew Valentine, Australian National University
Brett Harris, Curtin University
Boris Gurevich, Curtin University
Christopher Juhlin, University of Uppsala
Eleanor Sansom, Curtin University
Erdinc Saygin, CSIRO
Gilles Bellefleur, Geological Survey of Canada
Greg Turner, Hiseis
Heather Schijns, BHP
Jai Kinkela, Hiseis
Katarina Miljkovic, Curtin University
Michal Malinowski, The Institute of Geophysics – PAS
Mehdi Asgharzadeh, Curtin University
Malcolm Sambridge, Australian National University
Milena Marjanovic, Institut de Physique du Globe de Paris
Roman Pevzner, Curtin University
Sasha Ziramov, Curtin University
Stephen Bannister, GNS Science
Tanya Fomin, Geoscience Australia
---
Future seismix symposiums
We had two proposals for the Seismix 2022 and 2024 symposiums on which the Science Committee voted. The results were:
Seismix 2022: Cornell University, New York, USA – Proposed by Larry Douglas Brown.
Seismix 2024: Uppsala University, Uppsala, Sweden – Proposed by Christopher Juhlin.
---
Symposium contacts
Scientific representatives
Professor Milovan Urosevic
Email: m.urosevic@curtin.edu.au
Phone: +61 8 9266 2296
Dr Sinem Yavuz
Email: sinem.yavuz@curtin.edu.au
Phone: +61 8 9266 4972
Mobile: +61 424 372 717
Symposium administration
For further information or enquiries on accommodation, registration, sponsorship fees and travel please contact:
Avryl Pusey/Tanya Chambers
Email: WASM-SBM@curtin.edu.au
Phone: +61 8 9266 7151
For all other enquiries regarding this Symposium, please email WASM-SBM@curtin.edu.au.
---