Facilities
The Curtin University Centre for Exploration Geophysics has access to an extensive array of facility and equipment resources, which are available for use in our research projects.
This includes access to the Pawsey Supercomputing Centre as well as local field equipment, laboratories and local HPC resources.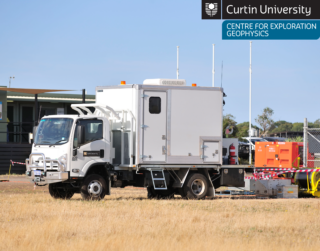 Laboratory equipment
We have a wide range of specialist equipment that includes the following laboratory instruments and workshop tools.
Field equipment
We have an extensive selection of field equipment as well as access to the National Geosequestration Laboratory (NGL) instruments.
Relevant staff and field technicians are trained in the deployment and operation of this equipment.
Computing resources
The Centre for Exploration Geophysics has a variety of the latest computing hardware and specialist geophysics software resources, including a HPC cluster, high-end specialist workstations and servers.
The Centre has access to the Exploration Geophysics Redhat Linux HPC Cluster, which forms the backbone of our computational resources.
The combined processing capacity of this system is 20 nodes, 432 CPUs, 5.8 TB of grid memory and over 70 TB of online storage. These resources are frequently being upgraded with better performance hardware and higher capacity storage.
The Pawsey Supercomputing Centre
Pawsey began its life as the Interactive Virtual Environments Centre (IVEC) in 2000. It was supported by federal and state funds and contributions from the four partner institutions, namely CSIRO, Curtin University, Edith Cowan University, and The University of Western Australia.
Its central role is to provide supercomputing capabilities that support research and development for visualisation and high-performance computing in geosciences.
Curtin Geolab Well Calibration and Training Facility
The Curtin Geolab well calibration and training facility is a unique training well and equipment facility designed to test and calibrate geophysical and other scientific equipment. It is located on Curtin University's Bentley campus. The well is a ~900 m deep vertical borehole and is fibreglass-lined (inner diameter is 150 mm) so that it doesn't interfere with electronic or electromagnetic equipment.