Field equipment
We have an extensive selection of field equipment as well as access to the National Geosequestration Laboratory (NGL) instruments.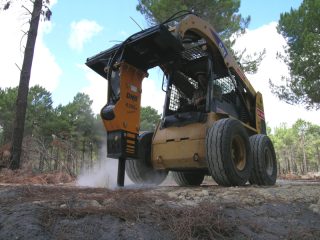 Relevant staff and field technicians are trained in the deployment and operation of this equipment.
The Otway monitoring has been done using seismic equipment secured by Curtin as part of a A$48 M EIF grant to the National Geosequestration Laboratory (NGL), a partnership between Curtin, CSIRO and the University of Western Australia in research activities in the area of Carbon Capture and Storage (CCS).
The primary purpose of NGL is to support South West Hub, a CCS Flagship project in the South West of Western Australia and other CCS projects, but can also be used for other research projects.
The equipment includes two mini-vibrators, a combined wired and wireless seismic acquisition system (2500 channels of Sercel 428 acquisition system and 1300 channels of Sercel Unite) a VSP tool (Sercel Slimwave – 10 levels), controlled-source electromagnetic equipment, 3500 m winch for VSP and a 900 m deep non-electric training well equipped Distributed Acoustic Sensing (DAS) cables on the casing on Curtin Bentley campus.
Seismic equipment
600 channels Seistronix EX-6 distributed array seismic + auxiliaries (10 Hz geophones)
2000 channels Sercel 428 distributed array seismic
1000 Sercel Unites (3 channels each) cableless seismic
Single and 3 component geophones for Sercel
DAS interrogators: Fotech's Helios Theta + 2x Terra15's Treble systems
DTS interrogator: Bandweaver
1 x DAQ link (24 channel seismograph + 4 refraction cables)
2 x boom box (explosive controller)
2 x GISCO radio trigger link
2 x WTB trigger link
1 x Borehole geophone (MSI)
2 x Borehole geophone (Geostuff)
2 x Percussion Rod Sources
Accelerated weight-drop source 45 kg
Seismic signature recorder (SeismicSource)
1 x CAT skid-steer 287 C (for the seismic weight drop sources 400kg & 900 kg)
1 x 2000 m hydrophone string with 24 channels
1 x 1200 m hydrophone string with 24 channels
1 x 8 tonne 4 x 4 recording truck
100 Channel GTU NuSeis Nodal acquisition system
VerifI Sandwich Box
EM equipment
1 x Zonge GDP32 receiver
1 x Zonge NT30 EM Transmitter
1 x EMIT SmarTEM receiver
1 x EM31 Frequency Domain EM system
Mala ProEx GPR controller, 250 and 500MHz shielded antennae, 100 and 200MHz unshielded antennae
1 x Phoenix TXU-30 High Power EM Transmitter
2 x Phoenix V8 Multifunction Receivers (AMT/MT coil sets)
Downhole equipment
1 x MSI Full waveform sonic probe
1 x MSI winch + controller
1 x Auslog winch
1 x Auslog induction probe
1 x Auslog Natural gamma probe
1 x Mount Sopris portable winch +matrix logger
1 x Mount Sopris natural gamma tool
1 x 8 tonne logging truck with Heavy duty trailer and generator
Magnetic
2 x 856 Proton Precession magnetometers
2 x GEM GSM19W Overhauser magnetometers
Electrical
1 x Syscal Pro ERI system, 10m and 5m takeout cables
1 x VES transmitter
Surveying equipment
4 x Navcom SF-3040 RTK
2 x RTK GPS (Thales Z-Max)
1 x DGPS (Thales Promark)
Miscellaneous
Toshiba and Dell toughbooks
Fugro GSM 2 magnetic susceptibility meter
---