The Pawsey Supercomputing Centre
Pawsey originally started as the Interactive Virtual; Environments Centre (IVEC) in 2000, that was supported by federal and state funds and contributions from the four partner institutions, namely CSIRO, Curtin University (CU), Edith Cowan University, and The University of Western Australia (UWA).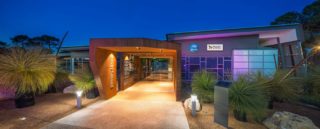 IVEC was also part of The National Computational Infrastructure (NCI) project, which was funded through the National Collaborative Research Infrastructure Strategy (NCRIS) Platforms for Collaboration capability.
As part of the Commonwealth Government's Super Science initiative, in 2009 iVEC secured funding to establish a petascale supercomputing facility at the Australian Resources Research Centre in Technology Park West, Perth. In 2014, IVEC adopted its new name, the Pawsey Supercomputing Centre.
Pawsey's central role is to provide supercomputing capabilities that support research and development for visualisation and high-performance computing in geosciences.
Visit the Pawsey Supercomputing Centre website
---